A day in the life of a Volunteer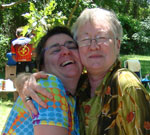 Ann has crewed several times with OutRiders. We asked her to describe the Crew experience.
"It is fun to be a 'save-yer'. The duties were - get up at 5 am, find Cyclorama, throw luggage into the car then stand in the middle of the street and avoid oncoming trucks while taking pictures. After all the bums went flashing off down Tremont, the challenge was to stay awake while driving to Yarmouth, the second lunch stop.
Once there, we cut oranges into neat quarters and made sandwiches by the cart load - peanut butter with jam, peanut butter with fluff (yech - apparently it is a New England thing) and peanut butter with peanut butter. The grape tomatoes and salt-laden pretzels were popular. My fave addition to the supplies this year was nutella, and the new gourmet snack was a banana nutella wrap. Some riders who must have done enough carb loading bypassed the wrap and dipped the banana right into the jar....
All the riders were really appreciative of the support provided by the save-yers. It is actually very rewarding to be thanked repeatedly and hugged by sweaty loved ones, friends and strangers.
Once the ride was over, we cast off our save-yer crowns and went back to being regular peeps who needed showers and cleaning up just like everyone else."
You will never spend another day where you will hear 'Thank you!' directed at you so many times and so authentically.
Ann, Crew